I've been more than touched by all the comments that the very first spectators of LUTINE have written, so I've decided to create here a page dedicated for them. Please, feel welcome to leave your comments on LUTINE if you've seen it… below. Thank you!
You can also read comments in French, Italian, Spanish and Catalan.
**************************************************************************************************************
LUTINE follows director Isabelle Broué (France) as she films a documentary on polyamory –while she tries it out herself. Blurring the boundaries of documentary and fiction, Broué's self reflections offer a quirky, sometimes moving, backdrop to larger themes of desire, social norms and gender roles that play out in her film and life.
Vancouver International Women In Film Festival (#VIWIFF), where LUTINE won the Best Feature Award and the Best Screenplay Award in 2017
« Thank you, the movie is beautiful, it's wonderful. Thank you for reading from La Salope éthique. One of the things I liked about the movie is that you talk a lot about the things people are afraid of. (…) So it's a good stuff, really good stuff, thank you. Beautiful movie, thank you. »
Dossie Easton, one of the two authors of The Ethical Slut, after seeing the film at the Polyamory in Pictures event in Oakland on Pride Day 2016
LUTINE approaches polyamory in a fresh, perceptive, and intelligent manner. The innovative director, Isabelle Broué, makes surprisingly apt parallels between the creative process behind film making and the exploratory, personal experience of learning about lifestyle alternatives and delving into one's sexuality. Through an exploratory perspective, we are given a window into a community of real polyamorous people, for indeed the film blends together actors and members of the community within many of its scenes.
We are all seeking the type of future that best suites us—seeking to express our sexuality in an honest, fulfilling manner. LUTINE is the type of film that leaves you with a lot to think about, no matter your actual experience with its subject matter.
–Dr. Naas-Lattanzio, after seeing the film at Beyond the Love Summit, in November 2015
SUPER! First non-monogamous film I have ever watched that does not end with someone dead, reverting to monogamy, horrible break ups and unwanted pregnancies, families splitting or horribly predictable Hollywood romance. Congratulations!
Jade Jossen, from Rifacciamo l'amore
I loved it! Funny, touching, educational, surprising… I want everyone to see it!
Dawn Davidson, from Love Outside the Box, CA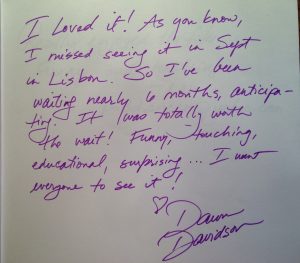 LUTINE is an extraordinary film. It mixes documentary and film in such a way that it's impossible to tell them apart. Thought the polyamory in it is absolutely real and excellently portrayed. It covers the initial explorations and tribulations of a woman and her partner in polyamory, their mistakes and growth. The storyline and levels are rich and intricate. You'll be trying to work it out for ages. I really recommend everyone watch it. They'll enjoy it whether they are polyamorous or not.
Victoria Rose, coach in relationships from Open and Awesome, UK
As a filmmaker, I approach a screening with a different eye. LUTINE presented everything that film school wanted to teach, but forgot. Director, writer, producer, star Isa Broue' let the narrative have fun and imbued the dialogue with crisp humor AND a solid philosophical credibility. Including international polyamory stalwarts as Dossie Easton, Meta, and Francoise Simpere only bolstered an alternately serious and sauntering exploration, exposition of plural relationships. The film and filmmaker Isabelle Broue' are the next big things.
Kato Cooks, filmmaker (Hibakusha, 2012)
So much fun! Keep the same French title… the perfect word, nothing approaching it in English!
Kirsten Rose, from the Polyamory Women's Support Circle in California
Brava! A beautiful brilliant & very bonobo film!
Dr Susan Block from the Block Bonobo Foundation, CA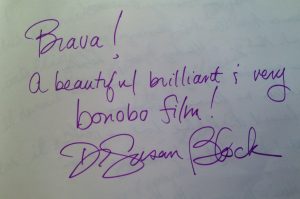 It was a gorgeous documovie. Thank you for the opportunity.
Chrissy Raymond Holman, at the 10th anniversary of Open Love NY
Well done, funny and insightful.
Denis Akyurek, Hacienda Villa in Brooklyn, NY 
So creative! Funny, clever, powerful message.
Michelle Mueller, Berkeley, CA
Well done! I loved the twists and twins in the plot. Funny and enlightening.
Randy, Berkeley, CA
Love it! Original, subversive, exciting!
Rick Ortiz, Berkeley, CA
The BEST polyamory movie I've ever seen yet. I really enjoyed the confusion…
Billie Jordan, Berkeley, CA
Entertaining + profound both – a rare achievement in film. Congratulations.
M. Winell, Berkeley, CA
Really enjoyed the film. Funny and touching.
Lovi, Berkeley, CA
REVIEW FROM THE OPENCON CATALONIA, MAY 2016
A film about the love of film-making and the making of a film about love. Makes you laugh, makes you think, makes your head in a knot (in a good way).
Ana R.
A masterfully twisted braid of story and meta-story blending into each other to make a gripping and funny treatment of love, relationships and sex. This film brought tears to my eyes.
A surprising film… I loved the many connected layers!
Stunning! I recommend it to anyone who wants to know about polyamory. Or just excellent film-making.
It's a brave story, a brave making (or production), and a brave woman / director / protagonist / goddess. Thanks for making it and send our message to the world.
Karen, from Madrid
A film that transmits a meaning, makes you learn and have a really good time at the same time. Very clever and fun.
JC
This movie has a nice surreal touch to it, which I particularly enjoy – the fact that reality and fiction intermingle is absolutely perfect for me.
Loved it!! It made me laugh, think and cry. Thank you so much for giving such a creative perspective on polyamory!!
Very intelligent film.
Great to see poly on the « big » screen.
True and touching movie. A good introduction to polyamory! Thank you for your work and dedication.
Great film! This whole project seems unique and is beautiful. Brava!
By mixing « real » people with multiple roles they play in the movie, you made me think of the several roles we, as polyamorists, play with our relationships at the same time.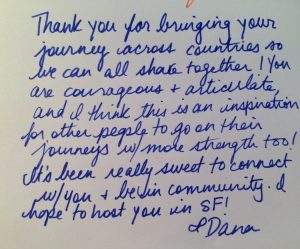 From the screening at « Polyamory in Pictures » at the New Parkway Theater in Oakland on Pride Day, June 26th 2016:
I had the joy of screening this wonderful French film on polyamory, written, directed, produced and starring Isabelle Broue. It was deftly directed, magical dialogue (in that it was surreal AND realistic), imaginative editing, and funny, funny, funny. Catch a screening near you!
Kato Cooks, writer/producer

This was truly spectacular. I was unprepared for how funny, touching and real it would be. Even if I hadn't been in a big room with a bunch of people I love, I would have been moved.Thanks to the organizers for putting this together, and HUGE congratulations to the filmmakers.
Mark Z.